Course Content
Total learning:

6 lessons
Time:

30 minutes
Maximize Storage and Quality
As noted earlier in this course, the quality of a Mediasite presentation directly impacts how much storage space a presentation will take up on the server. It goes without saying that a higher quality video will create a larger file. However, there are ways to maximize the storage needs for any presentation by utilizing several simple settings in Mediasite.
Remove Adaptive Bitrate
Once a live broadcast has been completed and made available for on-demand viewing the adaptive bitrate may no longer be needed. In that case, rather than removing the adaptive bitrate on an individual presentation it is possible to use the actions on a Template to automatically schedule the removal of adaptive bitrate.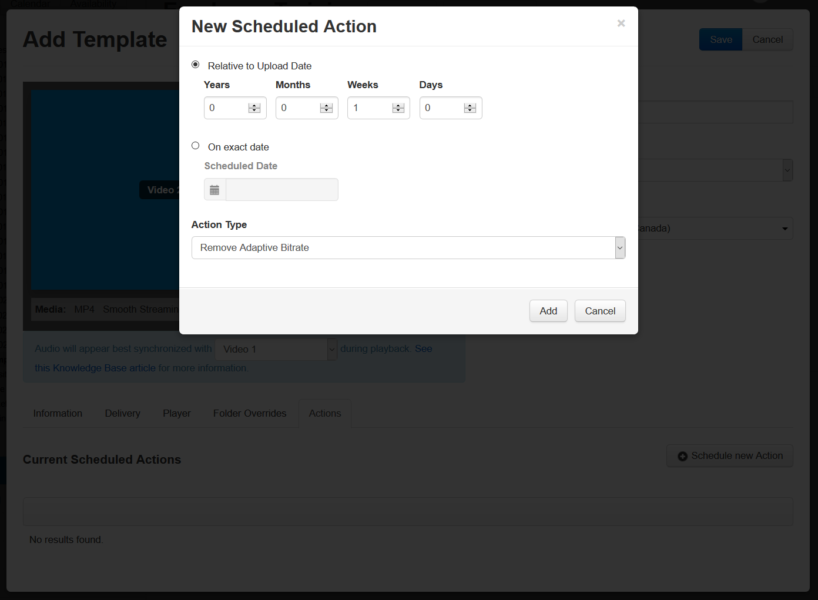 Select the Actions Tab on a Template.
Click Schedule new Action.
Set the Action to occur Relative to Upload.
Set the Action Type to Remove Adaptive Bitrate.
Click Add to apply the action to the template.
Click Save to save the Template with the Action.
Bypass Transcoding
Presentations that are uploaded to Mediasite will typically transcode to ensure that the file is a format that can be played back though Mediasite. However, you may be uploading videos that would already be playable by Mediasite and can bypass the transcoding. This will not only help you save storage and maintain quality but also make the content available more quickly.

Change the setting for transcoding of uploaded content:
Go to Settings > Server Settings.
Navigate to Site Information.
Under Media Upload and Import, select the recommended option, Bypass Transcoding for only compatible H.264/AAC MP4 content meeting maximum media quality levels.
Disable Archive Revision
When a video is uploaded to Mediasite and it needs transcoding, Mediasite will keep a copy of the original file format as an archive. In the majority of cases, this archive file is using valuable storage space. Within the management portal, you can adjust the settings to either disable the archive revision or remove it after a certain amount of time.

To disable archive revision of Uploaded content:
Go to Settings > Recycling Bin.
Under Archive Content select Disable Archive.
Was this Information helpful?
Let us know if you found this lesson helpful. That's the only way we can improve.