Course Content
Total learning:

8 lessons
Time:

30 minutes
Record a Zoom Meeting

Microsoft Teams

Webex

GoTo Meeting

Bluejeans
Recording with Mediasite/Zoom Integration
When set up, the integration between Mediasite and Zoom allows you to not only choose what recordings are uploaded to Mediasite but also where those recordings are published. This means that you can have every virtual classroom session published directly to you LMS course channel.
In order to get the Zoom recording import to Mediasite there are up to three steps that may need to be taken care of, all of which can be set in the Advanced options of the Zoom Schedule.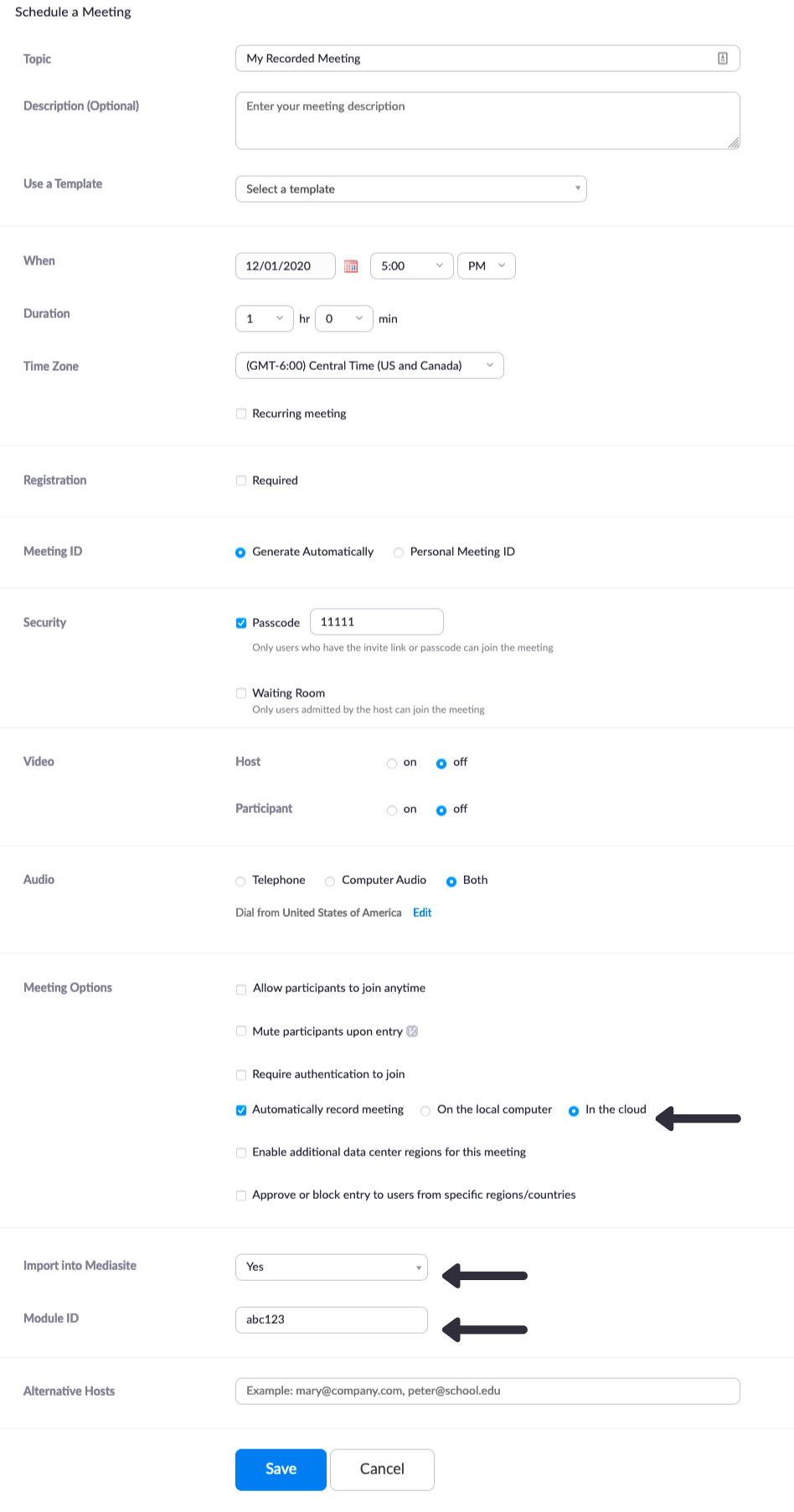 Set the Meeting to Automatically Import to Mediasite
When scheduling a meeting in Zoom simply navigate to the Advanced Options and under the field Import to Mediasite select Yes.
If a meeting has already been scheduled without enabling the automatic import to Mediasite you can still update it by opening the meeting from you Zoom account.
Choose a Module ID
The Module ID will link the recording to a specific location within Mediasite. Typically, you will select a course that will automatically add the recoding to a channel. When this field is left blank, the recording will go directly to your drafts in My Mediasite where you would be able to manage the video.
Record the Meeting
Once Automatically import to Mediasite has been enabled on a scheduled meeting, the only thing that needs to be done is record the meeting to the Zoom cloud. There are two easy ways that a meeting could be recorded to the Zoom cloud.
Set up to automatically record on the Schedule Advanced Options.
In the Meeting select Record > to the cloud

| Advantages | Disadvantages |
| --- | --- |
| Publish to Mediasite on a per meeting basis. | The integration must be set up by an administrator before you can initially use it. |
| Automated recording with Zoom settings to automatically record meetings to the cloud. | Composited recording experience. |
| Presentation automatically shows up in My Mediasite in the desired location. | Required adjustment of the Advanced Options when scheduling the Zoom meeting. |
Sample Recording
Was this Information helpful?
Let us know if you found this lesson helpful. That's the only way we can improve.