Course Content
Total learning:

18 lessons
Time:

90 minutes
Mediasite and Blackboard for Students

Discover how to search, play and interact with Mediasite videos embedded in your Blackboard LMS course.

Mediasite and Blackboard for Faculty, Instructors, and Professors

For faculty, instructors, and professors, Mediasite's integration with Blackboard make it easy to create, manage, and watch your course videos all from within the Blackboard LMS.
Adding Captions to Your Video Presentation Blackboard Ultra
Mediasite allows you to add Captions to your video Presentations to meet accessibility needs as well as improve search results. Captions can be added to a Video in two ways:
Manually – This method allows you to create your own captions using a 3rd party tool.
3rd Party Captioning Provider – Your Mediasite Administrator has the ability to integrate Mediasite with 3rd party Captioning Providers that allow you to have captions created for you. Turn-around times and pricing will vary by provider.
Creating Captions for Your Mediasite Presentation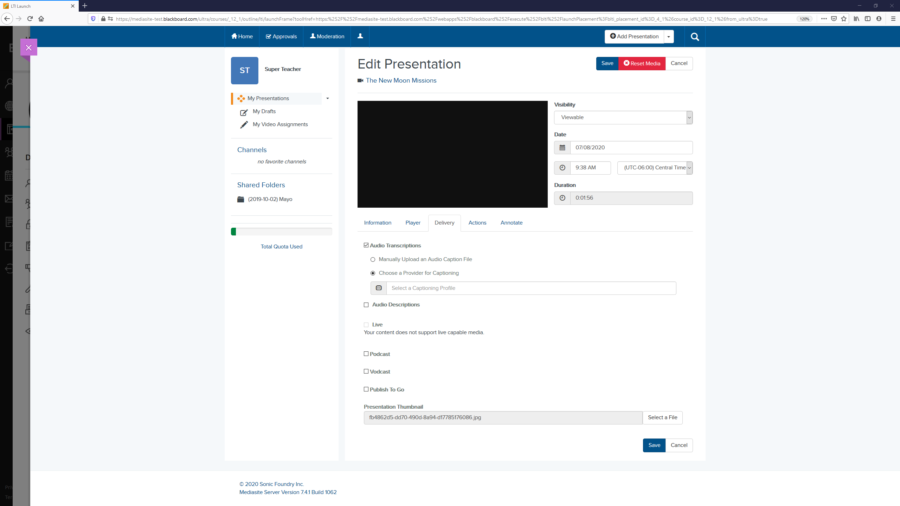 To enable Captions:
Launch My Mediasite from within Blackboard Ultra.
Open the desired presentation.
Click Edit Details.
Select the Delivery tab.
Enable Audio Transcriptions
Choose:

Manually Upload an Audio Caption File
Choose a Provider for Captioning

Click Save.
Depending on the option selected and the caption provider chosen, the Captions will eventually become visible within the Presentation.
Editing Captions for Your Mediasite Presentation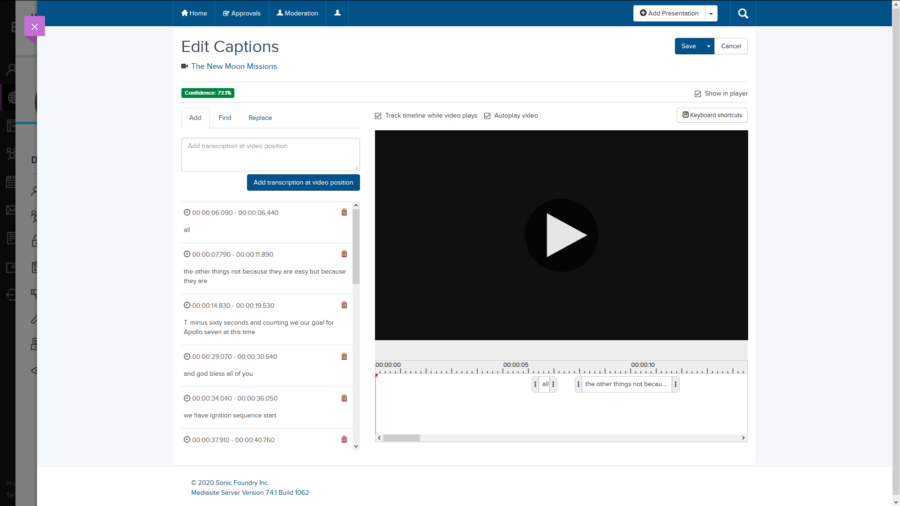 Editing the caption file can be done to create captions or make improvements to the caption file delivered by a provider.
Launch My Mediasite from within Blackboard
Browse to your Presentation
Click: Edit Captions
Was this Information helpful?
Let us know if you found this lesson helpful. That's the only way we can improve.