Course Content
Total learning:

9 lessons
Mediasite Video Platform

Mediasite Mosaic

Mediasite Capture
Mediasite Mosaic for Mac
Mediasite Mosaic differs from the previous version of a personal capture software (Mediasite Desktop Recorder) in that it is not downloaded through My Mediasite. Instead Mediasite Mosaic is found as an app in the Apple Mac App Store. The primary benefit to utilizing the Mac App Store is that it will ensure you always have the most current, up to date version of the app. There will no longer be a need to manually download and install the app on your desktop or laptop.
1. Mediasite Mosaic can be found in the App Store by following the below link or searching the App Store for 'Mediasite Mosaic'.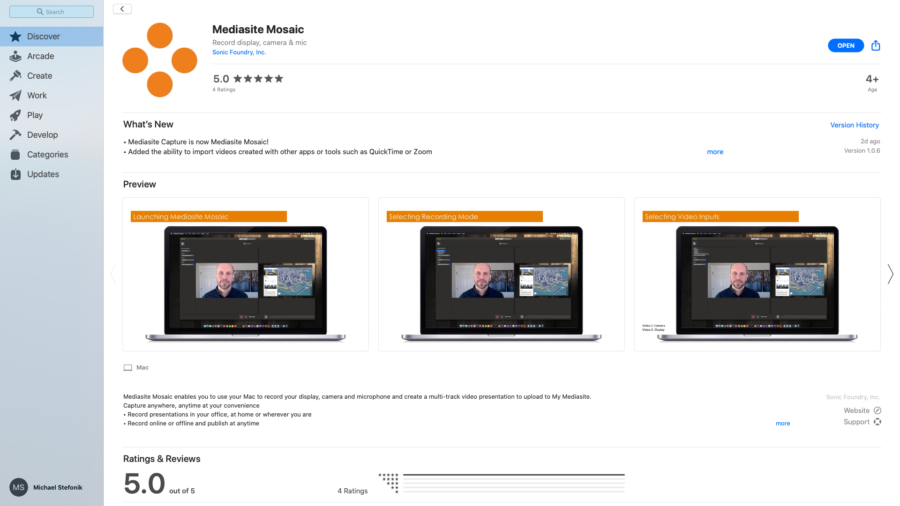 2. Follow the usual process to install an app on your desktop or laptop locally.
3. Mediasite Mosaic requires macOS Catalina (version10.15).  It does not work with older versions of macOS.
Register Mediasite Mosaic
Once Mediasite Mosaic has been installed, the app needs to be registered; the registration process will follow the steps you are used to in My Mediasite with the Mediasite Desktop Recorder.
4. Access My Mediasite and select Add Presentation.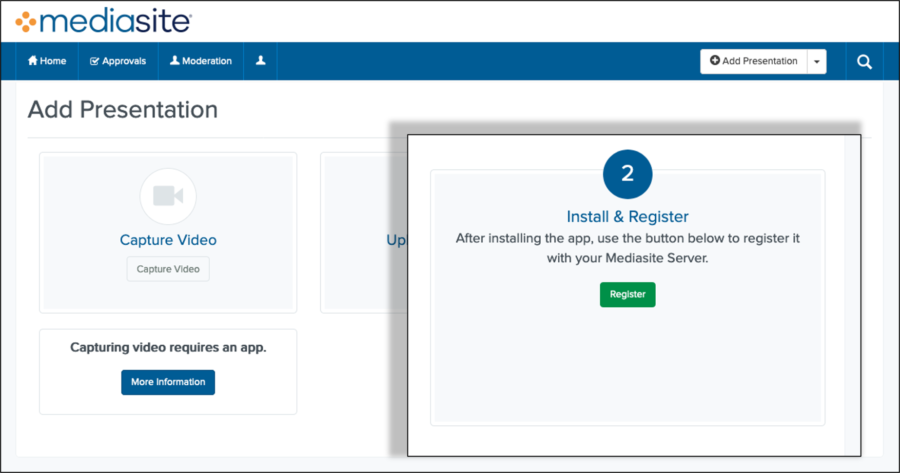 5. Select More Information. Then click Register.
Mediasite Mosaic will launch and be ready to configure a recording. You will know that your copy is registered when you see your log-in username in the upper right corner drop-down.
Configure Mediasite Mosaic
The process to record with Mediasite Mosaic begins with choosing the recording type and inputs.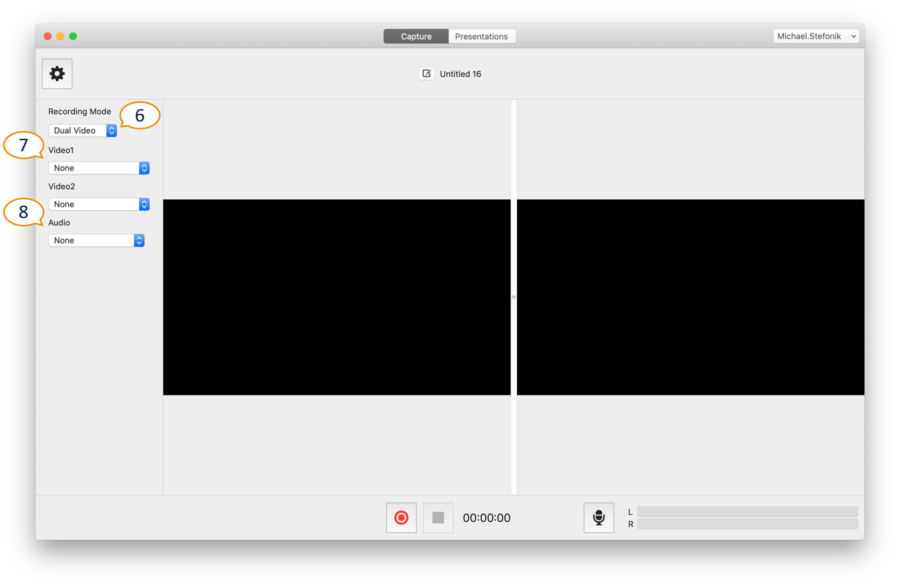 6. Choose the appropriate Recording Mode.
Dual Video: Capture your display and camera simultaneously as two discrete videos.  Or choose any combination of two cameras, two displays or other USB input devices.
Single Video: Capture either your display or camera as a single video.
Audio Only: Capture audio from you microphone.
7. Choose the desired display for Video 1. Set Video 2 as a camera.
You can choose from any of the connected video sources including displays, USB camera or a built-in camera.
8. Select the desired audio source.
You can choose from either the built-in or a USB microphone.
Once the appropriate options are selected within Mediasite Mosaic, the settings are persistent. The next time you open Mediasite Mosaic you will have your desired options already selected.
Recording with Mediasite Mosaic
Since the settings are persistent with Mediasite Mosaic there is no need to follow a wizard style walk-through to begin recording every single time. Instead, recording your display and camera can be done in just a couple clicks.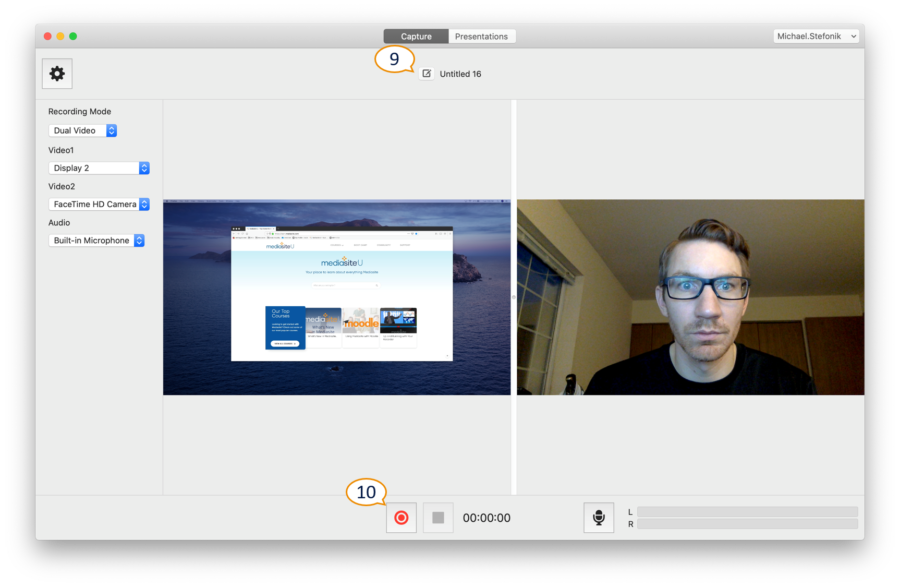 9. Enter a title for the recording.
10. Click the Record button.
Once the recording begins the app will display a count down from 3 and automatically minimize to the Dock. The camera LED will be on if you are recording with your built-in camera. The Mediasite icon will be displayed in the macOS status menu (top right of the menu bar) anytime the app is recording.
Clicking the Mediasite icon in the status menu will pause the recording and restore the app.
11. Click the Mediasite icon in the status menu.
12. Click Record to resume the recording or Stop to finish the recording.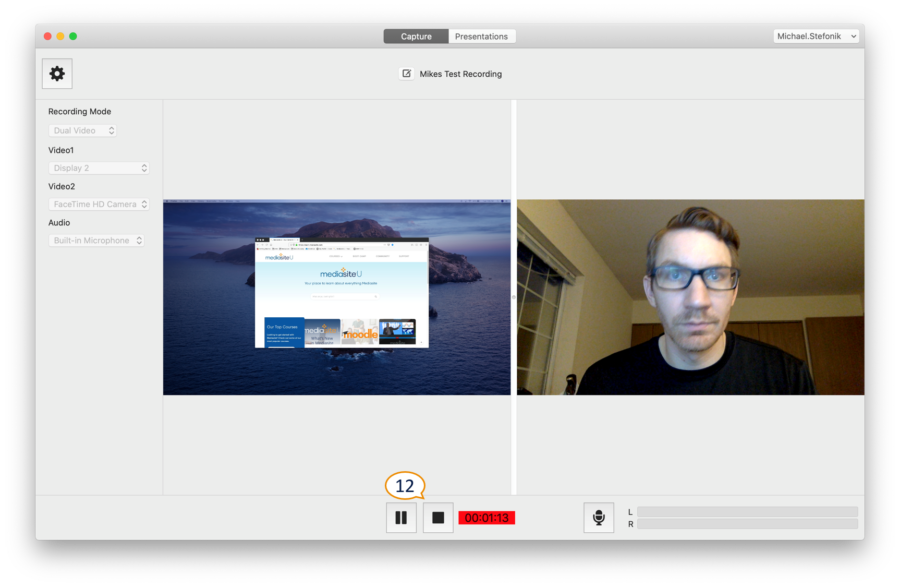 13. If prompted, Click Yes to confirm you would like to stop the recording.
Manage and Upload Recordings
Once a recording has been captured you can do some basic video management directly with Mediasite Mosaic. This includes reviewing, deleting, renaming and uploading.
14. Within Mediasite Mosaic select Presentations to see the list of recorded presentations.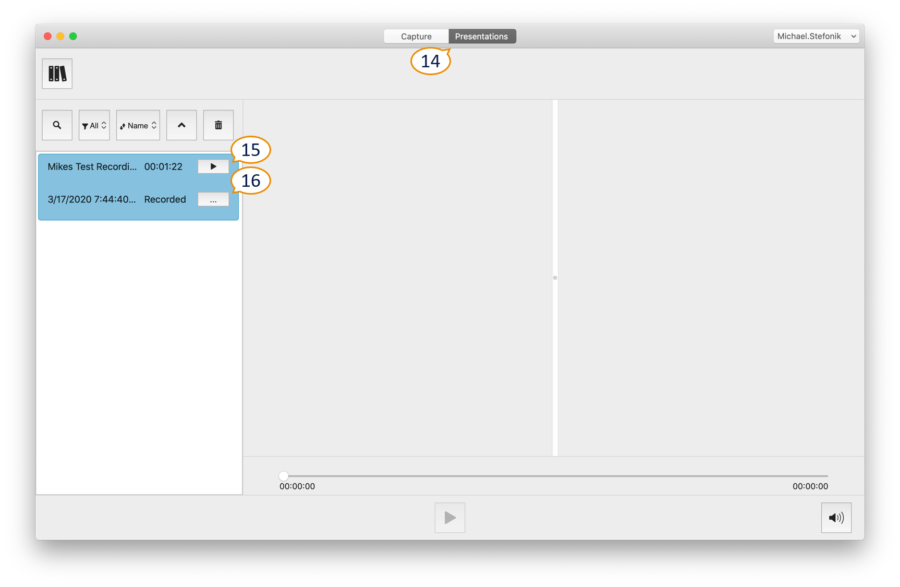 15. Click Play to review the recorded presentation.
16. Once you are ready to publish the presentation click the ellipsis.
17. The dropdown menu will have several options to:
Delete: This will only delete the local copy of the presentation. If it has already been uploaded to My Mediasite the uploaded version will remain.
Upload: This will upload the presentation to My Mediasite.
Rename
Show in Finder: This will open the local copy of the recording in macOS's Finder.
Show in My Mediasite: This will open the presentation in My Mediasite for further video management. This option will only be available once a presentation has been uploaded.
Import Videos to Mediasite Mosaic
Mediasite Mosaic is more than just an application for recording videos and publishing to My Mediasite. In addition to being able to record your desktop and camera, Mediasite Mosaic has the functionality to import videos either individually or entire folders. This can be utilized for any video that comes from macOS's built-in screen recorder, QuickTime, Zoom Recordings, or any other application where an MP4 or MOV video is created.
Import an Individual Video
Importing an individual video allows you to add a video to Mediasite when it was created using another tool like Adobe Premier or macOS's built-in screen recorder as just a of couple examples. As long as the video is an MP4 or MOV file it can be imported.
1. To add a new video to Mediasite Mosaic, start by selecting File > Import Video…

2. Locate and select the video you would like to import to Mediasite Mosaic then click Open.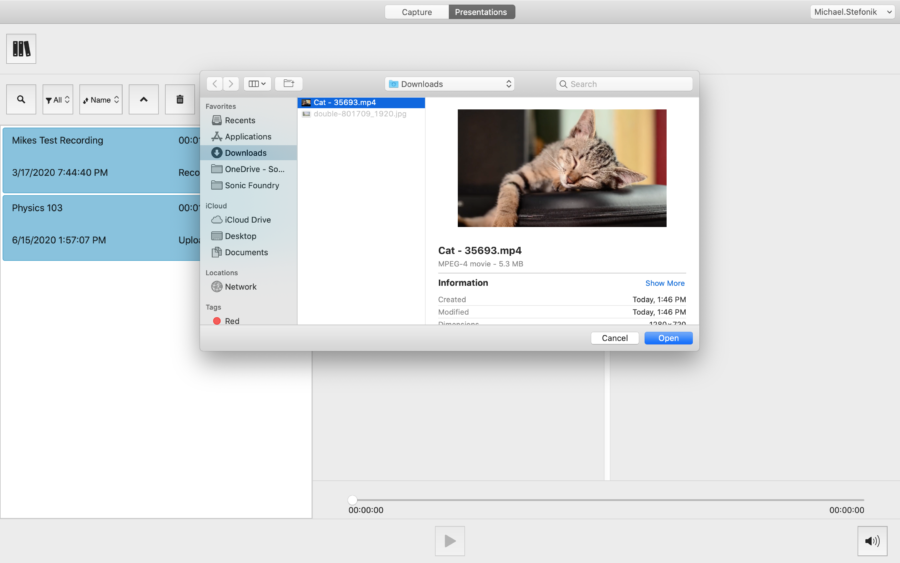 3. Once the import is complete you can manage the video as any other capture, including uploading to My Mediasite.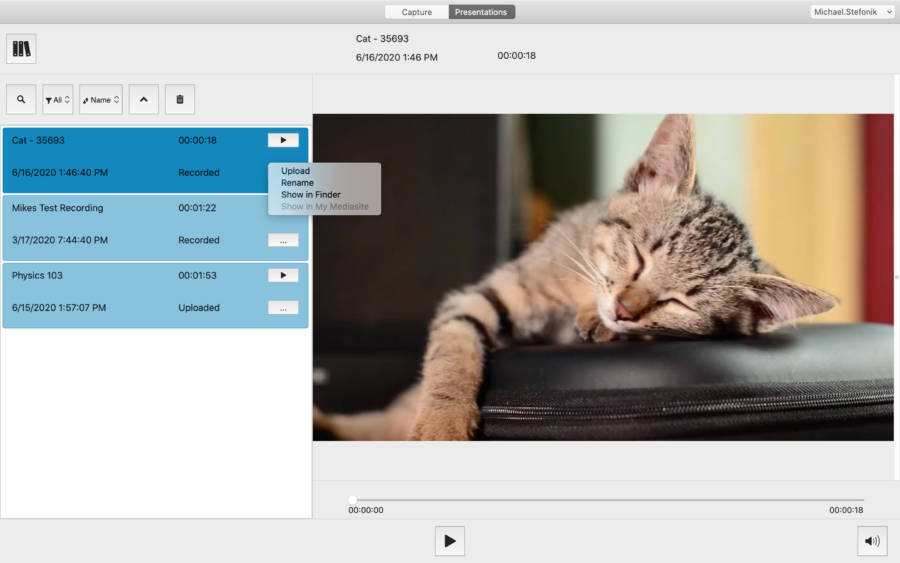 Import all Videos from a Folder
When you have multiple videos in a folder you are able to import the entire folder to Mediasite Mosaic to prevent you from having to repeat the process for each individual video. As was the case with importing an individual video, all MP4 and MOV files will be imported.
1. To add a new folder to Mediasite Mosaic, start by selecting File > Import Folder…

2. Locate and select the folder you would like to import to Mediasite Mosaic then click Open.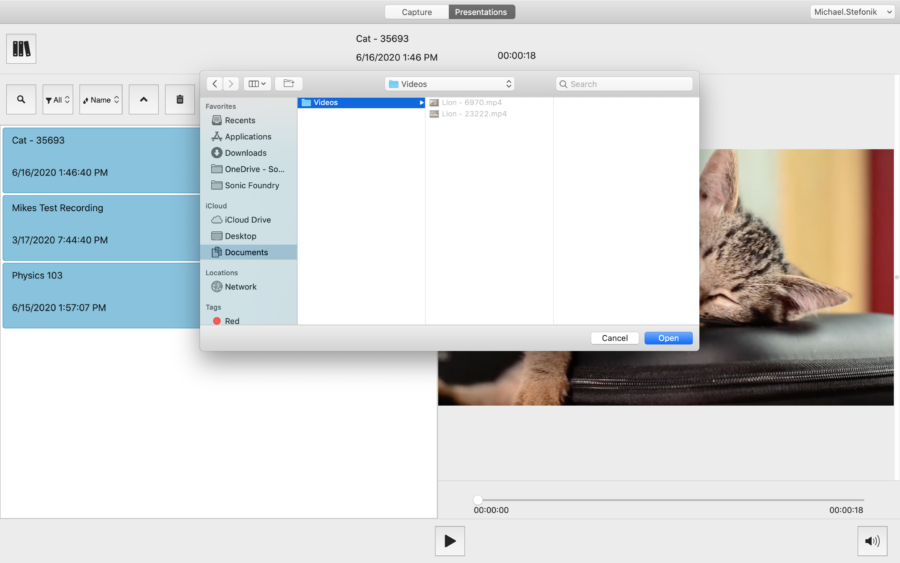 3. All MP4 and MOV files within the folder will be imported into Mediasite Mosaic.
Create an Import Watch Folder
When videos are automatically published and recorded from another source like Zoom, it is beneficial to be able to automatically import videos from the folder. This will create a watch folder and all videos that get published or added to the folder will get imported to Mediasite Mosaic.
1. Create a new watch folder by going to Mediasite Mosaic > Preferences.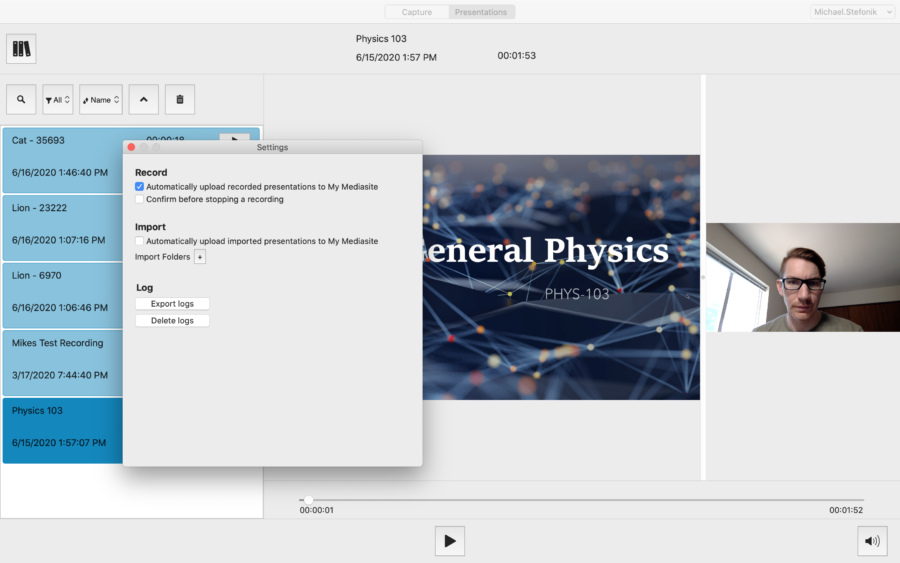 2. Under Import, click
on the Import Folders line.
3. Select the desired watch folder and click Open.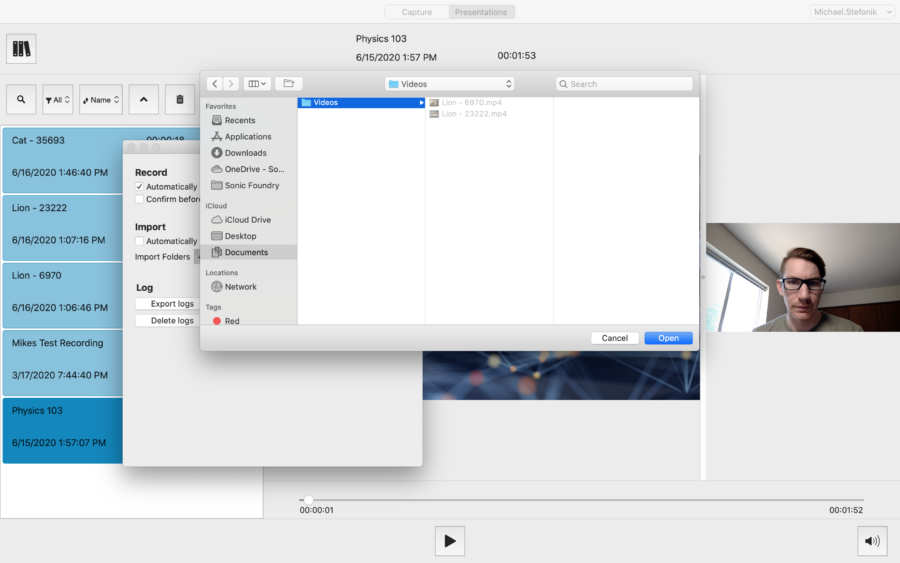 4. When new videos are added to the folder you can add those to Mediasite Mosaic by going to File > Refresh Import Folder.

Was this Information helpful?
Let us know if you found this lesson helpful. That's the only way we can improve.