Course Content
Total learning:

17 lessons
Time:

90 minutes
Mediasite and Blackboard for Students

Discover how to search, play and interact with Mediasite videos embedded in your Blackboard LMS course.

Mediasite and Blackboard for Faculty, Instructors, and Professors

For faculty, instructors, and professors, Mediasite's integration with Blackboard make it easy to create, manage, and watch your course videos all from within the Blackboard LMS.
Using In Video Quizzes within Blackboard
Using quizzes within a video is a great way to test your student's knowledge and understanding of the content presented in a video. With Mediasite it's easy to pull the in-video quiz results back to Blackboard. All that's needed is a video that has a quiz and the ability to post content to your course.
Post the video to Blackboard
In order to have the quiz results from a video post back to the LMS the first step is to publish the quiz to the video. Once the quiz has been published, the video can be posted to Blackboard as an individual presentation.
The first step in this process is publishing the quiz to the video. This can be done from My Mediasite:
Open My Mediasite from Blackboard.
Select the video you would like to use for the Quiz.
Click Edit Quiz.
Choose one of the three default options or enable and customize your quiz.
Add a Question set with the Add Quiz button.
Add Questions to the quiz.
Once all questions have been added click Save then Publish.
For more details on adding a quiz to a video review the Quizzes section of the Engagement course.
Once the quiz has been posted, add the Mediasite video to your course. Once the video is added, a slot in the LMS gradebook will be created automatically and students may watch the video with quiz.
Publish Results to Gradebook
Adding the in-video quiz is only half the process. Once the quiz has been completed by students, the next step is to get the results posted to the gradebook. This is all done from the quiz results page within My Mediasite.
1. Navigate to the course page within Blackboard.
2. Open My Mediasite from the left-hand navigation menu.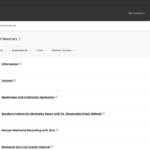 3. Select the video with quiz that was posted within the LMS.

4. Navigate to the video analytics using the View Analytics link.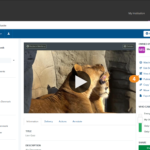 6. Select all students results or filter and select individual results.
7. Click: Post Score to Gradebook.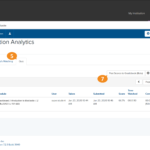 8. Within the LMS, confirm scores were posted.
Was this Information helpful?
Let us know if you found this lesson helpful. That's the only way we can improve.