Course Content
Total learning:

7 lessons
Create Video Presentation

Once you are logged into My Mediasite, it's time to upload your first Video.
Change Presentation Visibility from Private to Viewable
After a video is uploaded to My Mediasite, it may be set to Private by default. This can lead to issues when sharing since only the Owner of the presentation (that would be you) can view it.
When you share it with a friend or co-worker, they will not be able to view the video. They will see the following error when trying to view your amazing Video Presentation: The presentation is currently unavailable Please Try again later.
To prevent this sad moment for you and your viewers, you can manually change the Video Presentation to be Viewable. There are two easy ways that a presentation can be set from Private to Viewable within My Mediasite. Which one you choose depends on whether you need to specify the security permissions.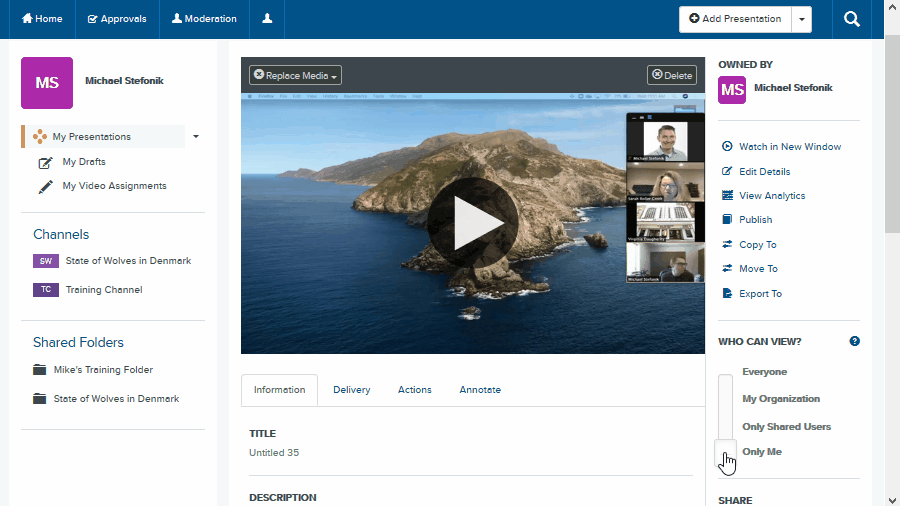 The most common method way to change a presentation visibility is by using the Who Can View Slider on the presentation details page. When the slider is set to Only Me the presentation is set as private. To set the presentation as viewable, simply move the slider toggle to the desired permission.
Only Me – Presentation is set as Private.
Only Shared Users – Use the Share Presentation button to define what groups or users have permission to view the presentation.
My Organization – All users with a log in can view the presentation.
Everyone – Public presentations that do not require log in.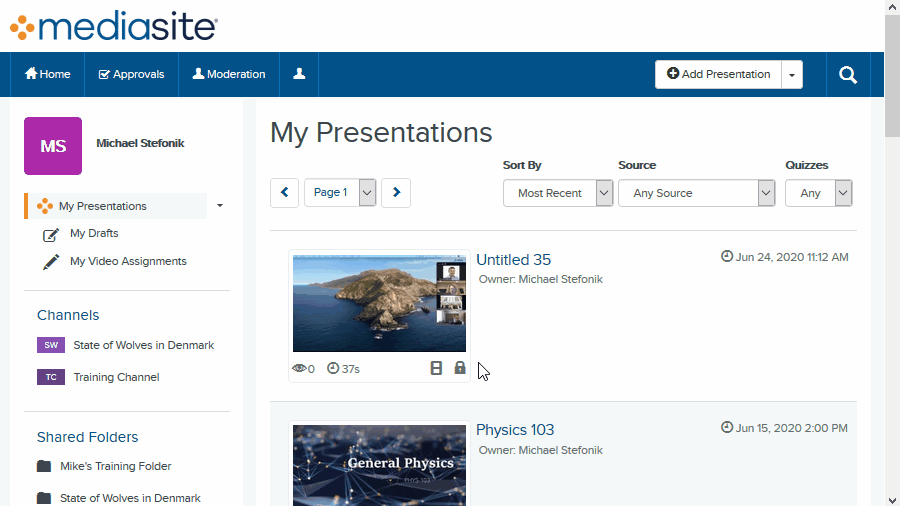 When you don't need to worry about changing the permissions of a presentation with the Who Can View slider you can simply change the presentation to viewable on the video thumbnail. By clicking the lock icon, the visibility will change to Viewable with the default permissions applied.
Was this Information helpful?
Let us know if you found this lesson helpful. That's the only way we can improve.