Course Content
Total learning:

8 lessons
Time:

30 minutes
Record a Zoom Meeting

Microsoft Teams

Webex

GoTo Meeting

Bluejeans
Recording with Mediasite Join
Mediasite Join offers a more streamlined experience of recording and sharing Zoom meetings. Rather than what might be thought of as an actual recording, Mediasite Join is called in as an attendee. Everything that is shown or shared in the meeting including shared screen, audio and active speaker video will get captured by Mediasite Join.
Before recording a meeting with Mediasite Join there are several things that will need to occur.
A Join license will need to be purchased and acquired.
Join needs to be integrated with Zoom and have call strings set up for users.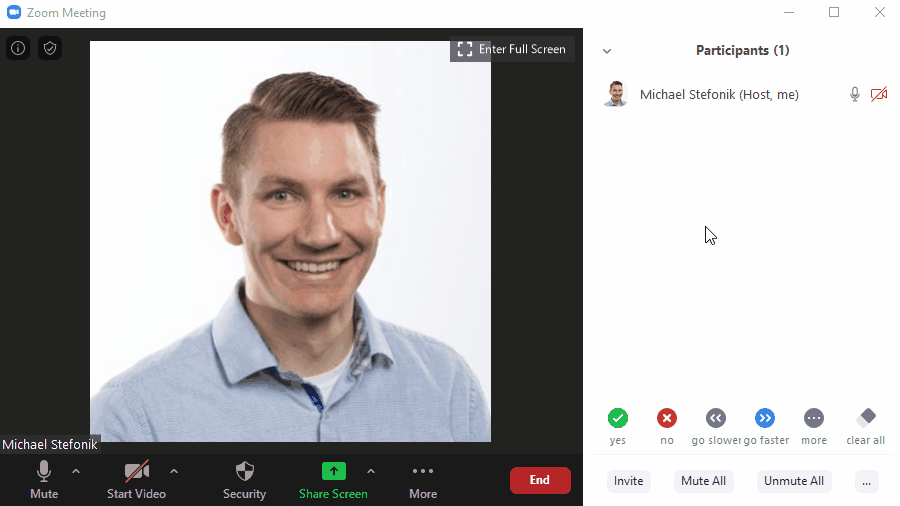 With Mediasite Join set up, recording a meeting can be done in a few simple steps.
Start your Zoom Meeting. Make sure you are sharing your screen, and have your Video and Audio set up properly.
Within the Participant panel in Zoom click Invite.
Select Room System and Call Out.
Enter your call string or select it from the dropdown list.
Click Call.
You should see Mediasite as a participant in the meeting.
Once the meeting has completed you may end it as normal. Mediasite Join will begin processing the recording. Because the video is processed by Mediasite after the meeting ends, it will take a bit of time for the recording to be available in My Mediasite. After processing has finished, the meeting will have a title that includes the date. The video can then be edited and shared with users.
| Advantages | Disadvantages |
| --- | --- |
| Streamlined workflow. Everything happens in Zoom. | Manual Process. Join needs to be called in to the meeting. |
| 1:1 recording of the Meeting. The recording will be the exact same thing participants will see. | Requires set up by an admin including creating call strings for each user. |
| High quality recording. Multiple video streams are recorded and shown to your user. No composited recording. | |
Sample Recording
Was this Information helpful?
Let us know if you found this lesson helpful. That's the only way we can improve.