Course Content
Total learning:

8 lessons
Time:

30 minutes
Record a Zoom Meeting

Microsoft Teams

Webex

GoTo Meeting

Bluejeans
Recording to your Computer with Zoom
The most basics method to record a Zoom meeting and share it with Mediasite doesn't involve any integration or special connection between the two platforms. Instead it is a manual process of recording the meeting with Zoom and then uploading it to Mediasite.
1. Record the Meeting with Zoom

When the Zoom meeting is in progress:
Click Record from the Zoom tools.

If you don't see a record button click More.

Select Record on this Computer.
The recording will begin, and Zoom will show the Record icon.
Once the meeting has been completed, the recording can be found on your hard drive at PC > Documents > Zoom.
2. Upload the recording to Mediasite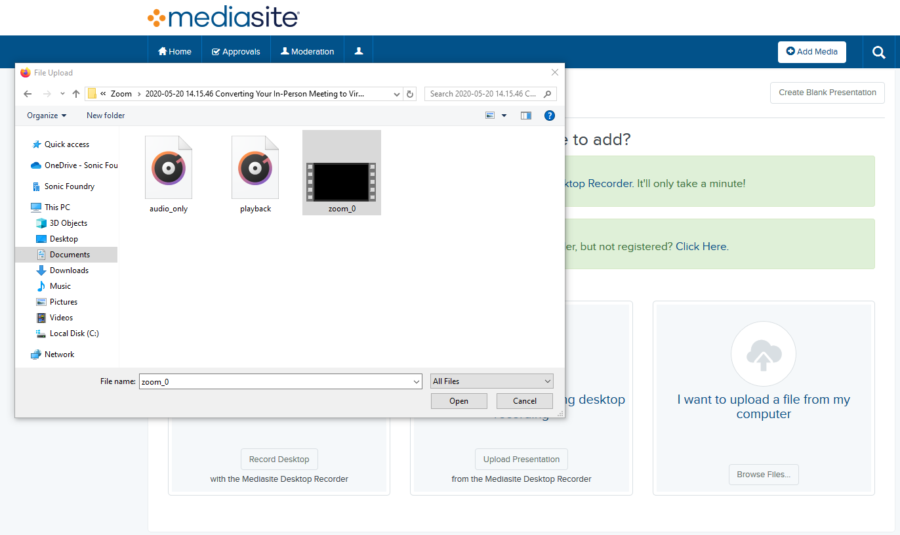 Now that the meeting has been recorded, it needs to get uploaded to Mediasite. This will follow the same steps for any video upload within either My Mediasite or the Management portal.
Within My Mediasite:
Click Add Media and choose I want to upload a file from my computer.
Locate the video file on your PC > Documents > Zoom. Then click Open.
Enter a video title, description and destination then click Create Presentation.
Once the file completes processing it will be available to view and share.
| Advantages | Disadvantages |
| --- | --- |
| No Integration between Zoom and Mediasite. | Cannot automate the process. |
| The original recording exists on the local PC as a backup. | The meeting owner is responsible for a lot of extra work. |
| It's easy to understand how it works. | The meeting owner could forget to upload the video and share it after the meeting. |
Sample Recording
Was this Information helpful?
Let us know if you found this lesson helpful. That's the only way we can improve.